COLLEGE HISTORY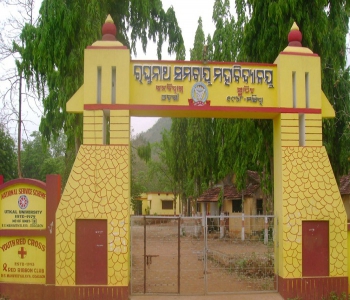 The College is situated at a distance of just 2 Kms from the Lord Raghunath Temple at Odagaon and 26 Kms. from the district head quarters, Nayagarh. R. S. Mahavidyalaya stands on a spacious campus spread over 33 acres of land. The College was established in June 1978 with the strenuous endeavour of the eminent scientist Dr. Dasarathi Mishra, Rtd. Prof. of Chemistry, Ravenshaw College, Sj. Bhagabat Behera, the leader of this soil and Prof. Radhamohan, Social Scientist and with the aid and co-operation of the public at large consisting of different walks of life belonging to all Panchayats of Odagaon Block. The environment around the College is very much enchanting as it is situated at the foot hills of "Gayalsingh mountain" and the atmosphere is calm and quiet.The scenic beauy of lush green foliage buys the admiration of everybody.
The College has the facility of providing teaching in Arts and Science in +2 and +3 level. Now it is functioning as a full fledged degree college having both +2 & +3 classes with Honours teaching facilities in both the streams. The +2 students are provided with Correspondence Cource facility under the CHSE, Odisha. The Govt. Vocational Juniour College is also running in its premises.
The College campus now comprises of science block, U.G.C. library building, Arts Block, Vocational Building, UGC aided Ladies Hostel (under construction) and the spacious college field. Besides some other buildings are being constructed with the assistance from the Govt. and with some public donations from time to time.
Above all, with many ups and downs the college has also achieved the unique distinction of being one of the oldest aided colleges of Odisha. The College has already stepped in to 39th year of its existence. The College is equipped with experienced,qualified and dedicated faculty members to impart knowledge to more than 1500 students. Lastly, with all these liabilities the college is looking ahead to fulfil the need of higher education of this locality steadily and firmly.